ACHS HISTORY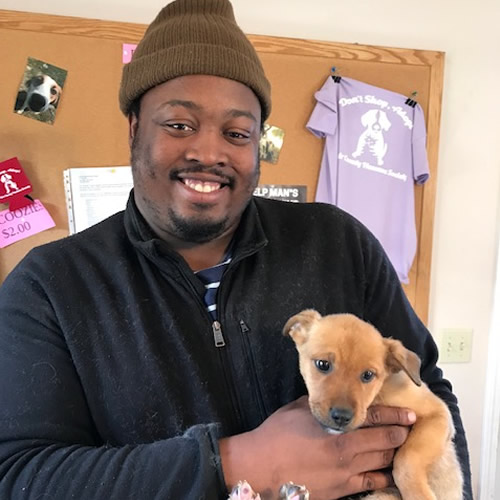 In the fall of 1971, Girl Scout Cadette Troop 166 of Kirksville MO, (Becky Thatcher Area Council) had completed all of their Challenge Preps and had to find a project to meet the "Challenge of Active Citizenship". There remained the charge "do something for your community in which you give something of yourself". Historical documents state "These girls had been sensing a real need for an animal protection organization. They were aware of the suffering among the neglected, unwanted, abandoned, injured, unfed animals in their town and the county. A humane society seemed the logical answer".
The notes go on to record that through the American Humane Association in Denver, CO, a booklet titled "Organizing an Animal Welfare Agency" was secured. The Missouri State Humane Society, in St. Louis, was contacted for assistance and the "sentiment of the community was detected through the local press".
The initial meeting of interested people, including the 10 Girls Scouts, was held April 6, 1972. Fifty-five people attended, bylaws were adopted, and a board of directors elected. The Adair County Humane Society was official. Soon the group was incorporated as a non-profit organization.
In August of 1972, a need for a building and a paid employee was identified. At first animals were kept by board members & volunteers at their homes. Originally it was hoped that a donation would be left with the animal to help defray the cost of food and veterinary service. When a pet was adopted a small donation was requested to cover the medical work done.
ACHS started as "the pound" in a small building in an out of sight spot near the city landfill. On March 18, 1976 a building was built and the new shelter facility was opened. This building is still in use today and shows the wear and tear of over 40 years of use. The shelter was run cooperatively with the City and replaced the old pound. A staff of one full time shelter manager and two to three part time workers was secured. The shelter office was located in a small trailer next to the shelter.
During the next several years the ACHS became more and more active in the care of animals in the area. Unfortunately the need for euthanasia existed and the shelter had to provide that service. Rabies clinics sponsored by the shelter were held in four of the Kirksville City parks and in Novinger. Bake sales and rummage sales were organized by society members. In 1980, the city adopted a new animal policy which allowed for hiring a "Dog Catcher".
A look through the old files found a wide range of issues and activities including: numerous times the shelter consider closing; an idea for the city to purchase the shelter; changes in leadership – with a note some had been working for "16 years without much help"; requests for more financial help from the city; accepting dogs from the surrounding communities for a fee; requests for support from the county; employee issues; unpaid bills; letters supporting or opposing various legislation concerning puppy mills, cruelty to animals, and other humane issues; and weekend coverage by the police department.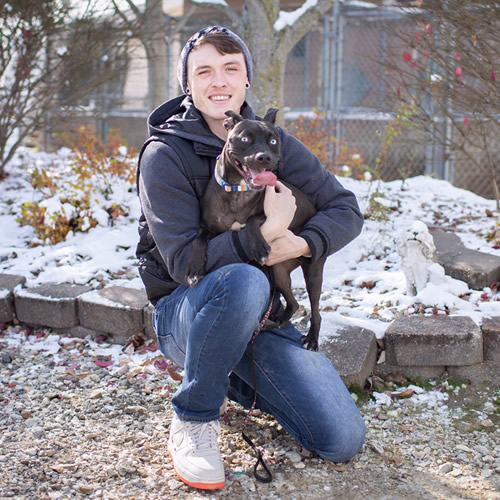 In 1989 a need for pens in the back area was identified and 10 pens were built and large Dogloos were placed in each pen. A letter dated Dec 1989 from the ACHS to an individual in Kahoka Missouri, stated that the shelter did not "accept the leftovers from the (gun and dog) show".
During the past 20 years, the shelter has seen some improvements in the physical structure, the most significant being the small office added to the front of the existing shelter. A few storage buildings were added, then removed and replaced. The shelter has changed significantly in appearance with the landscaping across the front providing shade for the front pens and a small outside patio offering the only "quiet spot" for staff and volunteers.
In the past few years, 2017-2019, the board made a renewed commitment to the shelter. Opportunities to train the shelter staff have been taken. The existing shelter facility has been evaluated and needed repairs are in progress. The shelter is involved with programs such as the Missouri Department of Corrections Puppies for Parole and the University of Missouri Shelter Medicine Program which both facilitates better care for the dogs and enhances their adoption potential. The most exciting news is the construction of a new stand-alone building for the care of the cats and kittens. This facility will open in March of 2019. It is a testimony to the generosity of the community. As we look forward to our 50th year anniversary in 2021, we dream of a new facility for our dogs and puppies.

Our Mission at the Adair County Humane Society is to provide a nurturing and safe environment for the homeless, abandoned and neglected animals in the Adair County area while ultimately finding loving and nuturing homes for them all.

ACHS TEAM & BOARD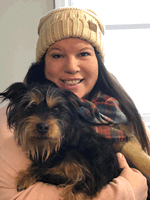 Missy Decker, Shelter Manager
Missy came to the Adair County Humane Society as a Kennel Care employee in February 2003 and worked her way up. In October of 2003 she was named Shelter Manager. She has remained in that position to date and is dedicated to overseeing all shelter staff, volunteers, and animals. During her time with the shelter Missy has implemented a spay/neuter policy, started a working relationship with the Shelter Medicine Program at the University of Missouri, created a volunteer program, and is now working with the Puppies for Parolees Program at the Moberly Correctional Facility.
When Missy began in 2003 she felt she had found her purpose. She loves coming to work with like-minded people who are all there for the same reason. Missy knows the Humane Society is a safe place for the animals of Northeast Missouri. Missy feels it is her job, along with the rest of the staff, to rehome pets by placing these special creatures in their forever homes. She strongly believes the key to ending suffering for all animals is education, and spaying/neutering.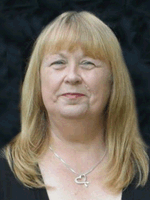 Nita Jeffries
Nita was born and raised in Kirksville, Missouri and has lived in this area most of her life. She has been involved with the Adair County Humane Society as a volunteer and a Board member for the past 27 years. The goals of the Humane Society are very important to her. The Adair County Humane Society is committed to education and support for this community. Her love for all animals led her in this cause.  She has seen so many improvements in the years she has been involved and has confidence in the future of this organization. Nita believes that with help from our supporters we can make a difference.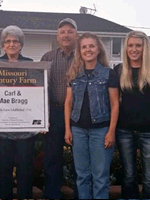 Kim Smith
Kim has been a proud board member for approximately 14 years. Kim and her husband Todd live on the beautiful rolling hills of rural Novinger, MO on my grandparent's century farm. They are blessed to have a wonderful daughter, Maeghan, who is involved in every aspect of the farm, and employed thru U.S.D.A. Her families have strong roots in agriculture and raise cross-bred cattle, sheep, corn, soybeans and hay (and used to raise hogs).
Kim works full-time for the Adair County Circuit Court as a Circuit Clerk. She is very active at her church, Union Temple, as the Secretary; President of the Union Temple Cemetery; Secretary of the Nemo Fair and past President of Beta Sigma Phi. Kim has 4, extremely spoiled, dogs named Lula, Hazel, Sissy and Dixie. She also enjoys her turkeys, ducks and donkeys. When time permits, Kim enjoys watching old-time westerns, reading and just being on the farm.Kim's best friend and mother Carlene, a retired elementary teacher, is 86 years old and the fifth generation farmer in their family. She continues to live strong, daily.
Kim truly has a great appreciation for nature and all of God's creatures.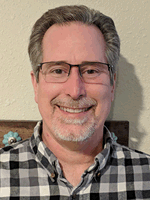 Greg Gordon
Greg joined the Humane Society Board in 2018. He is married to Leslie, a 2nd grade teacher at Kirksville R-III. They have 4 children and 4 grandchildren. He is a local business owner of Kirksville Farm & Home Supply, Inc. As a community member, he currently serves as a board member of the Kirksville Noon Rotary and the Green Thumb. He is also a past president of the Kirksville Booster club and former Kirksville R-III School board member. He brings his experience as a small business owner along with experience from other organizations to the Humane Society Board.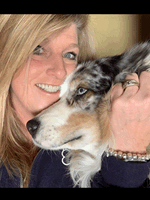 Janine Sevits
Janine was born and raised in Kirksville, MO. She now lives on the family farm where she and her husband raise cattle and horses. She is a small hobby breeder of quality Australian Shepherds and Wheaton Terriers. Janine also owns and operates a dog boarding facility, the Hound Around Hotel on the family farm.
Janine is married to Jamie Sevits and has two sons, two daughters-in-law, one grandson and a couple of sweet grandbabies on the way in the spring of 2019. There is never a dull moment out on the ridge where the farm is located. Janine is surrounded with the love of her furry friends and family.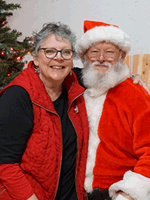 Valerie Arambasick Johnson
Valerie is a Missouri native, born in Kirksville and has lived the majority of her life in mid and northeast Missouri. Since graduating from Northwest Missouri State University in Maryville she has primarily lived in Kansas City, Jefferson City and Kirksville. In 2009 she retired from a 30+ year career in employee relations with the state of Missouri and moved to Kirksville with her husband and son to be near her aging Mother.
Raised by pet lovers (her Mother once has 20+ outdoor cats and her Dad built what he called her 'cat house') she has always supported rescue and fostering. She is passionate about the rights of animals to have life quality…all the things we as humans desire. A warm place to sleep, good food, a home and a family to love. She is further involved in disability rights, serving on the High Hope, Rail and Delta board of directors.Valerie, Bert and Jake currently live in Kirksville with their numerous cats and dogs, subscribing to the theory of 'what's one more'!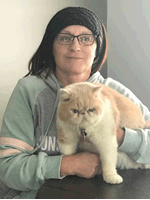 Brenda Jones
Brenda is a Northeast Missouri native. She and her husband of 35 years reside here on their cattle farm. They raised their 2 children here and and now enjoy time with their 4 grandchildren.
Brenda has been a longtime supporter of the Humane Society and has been an advocate for adoption, spay and neuter and animal welfare.As a new board member Brenda is looking forward to raising awareness of the needs of the shelter and the animals. Fundraising is also a priority for Brenda so that the shelter can continue to grow. Brenda's positive attitude will be an asset to the community involvement.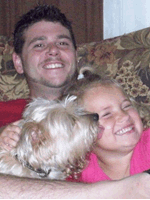 Derick Garr
Derick joined the board in 2019. He has always had dogs and cats in his life. Derick grew up in a house that always had at least one cat and two dogs. There was something very special about coming home and seeing all these beautiful creatures that were just happy you made it home ok.
When Derick moved away from his childhood home, he decided it was time to have his very own pet. He traveled thru a snow storm to get Wookie. Wookie is a Cairn Terrier (in picture with Derick).  In adopting him, Derick's life changed forever. Dealing with depression issues, Derick knew no matter what, Wookie would take care of him. Wookie saved Derick more than Derick saved Wookie.In November of 2017, Wookie had to go to heaven to wait for Derick. Time and life just stopped for Derick. After two weeks of nothing but sleeping and crying, Derick thought about what he could do to ensure Wookie's legacy lived on. There are so many Wookie's out there.  Beautiful dogs and cat who just need someone to give them a chance.Derick's goal is working with the Humane Society thru the community and with the community to make sure that everyone knows the important work they do. How each and every animal they have is someone's best friend – just waiting for them to be found. If we have a state of the art facility, and the best of the best for these animals, then everyone will have a new best friend. Derick believes that working closely with the shelter and the community, we can raise awareness of the important work the ACHS does. Through Derick's memories of Wookie, all animals can be someone's new best friend.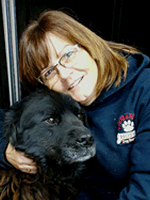 Kelley Grgurich
Kelley and her husband Eugene live outside of Kirksville on 8 acres. Kelley likes to call it her "dog farm". Kelley and Eugene have lived in and around Kirksville their whole lives. They have four sons and daughters-in-law and 12 grandchildren. They are self-employed and own a local trucking company. Kelley and Eugene currently own 12 rescues of all different breeds from Maltese to Newfoundland, labs, beagles, doodles, Pyrenees, and Shih Tzu. They got their first rescue about 10 years ago and it has snowballed from there. They now have a blind and deaf cockapoo and a deaf Maltese; and except for 2 all are over the age of 10.
Eugene told Kelley once that she couldn't have a dog in the house and now they have 5 in bed every night and he loves them as much if not more than Kelley. At work they have two cats that entertain them every day with their very different personalities. Kelley says one of the cats may be part dog. All of their employees and customers love to see the cats when they come in. Together they have fostered more than a hundred dogs and puppies during the last 10 years. They can't leave a dog or cat out all alone; guess that's why they are always picking one up. Eugene has been awesome to enable Kelley with her passion. They also have an African Grey parrot who entertains them at home. Maybe "farm" wasn't the right word, maybe they have a Zoo!Kelley can remember back as a child loving animals, especially dogs. She would get the "D" Book of the Encyclopedia out and learn all the different breed of dogs. She can say there has always been a dog in her life since she was a small child. She can't imagine life without a dog or cat; they bring so much joy and company to her life.